While I make four or five baby quilts every year, sometimes I need a little something to give as a baby gift that isn't as labor intensive or cost expensive.
Now, there are a lot of cute patterns for baby GIRL things, but not so many for baby BOYS. Maybe it's because I have three sons, but I get a little frustrated when I find so much designed for little girls and nearly nothing I can make for a boy. Then, while on vacation in Branson, Missouri, last fall, my sister and I popped into a very nice quilt shop, Quilts and Quilts (
http://www.quiltsandquilts.com/
).
BINGO! I found the cutest 'boy' project that doesn't take much time or fabric.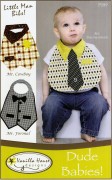 It's called "Dude Babies" -- a collection of three bibs for little boys. Designed by Barbara Brunson of Vanilla House Designs (
www.vanillahousedesigns.com
), it includes Mr. Businessman, Mr. Formal, and my favorite, Mr. Cowboy.
The fabric requirements are minimal: 1/3 of a yard for the bib, a fat quarter for the scarf, and a small scrap for the star. Notions include thread, three buttons and snaps or velcro.
While her pattern is great, I tend to tweak things a little, sometimes to save time, sometimes because it makes more sense from a construction point-of-view. I did that in this case.
The pattern for the 'shirt' has two pieces, which are overlapped and stitched together on the back side of the bib. Instead, I taped the pattern pieces together and cut just one front and one lining piece from a lightweight denim.
Two front pieces can be taped together to make just one for easier construction.
Use medical tape, and you can always take the pieces apart later!
My sister gave me a fat quarter of the bandana fabric, and I cut out the neckerchief and pocket. The neckline application did require a lot of pins, but turned out fine.
After sewing the bandana, right sides together to the bib front, you layer the bandana 'lining' right sides together
and stitch the two neckerchief pieces together.
The pattern calls for hand-stitching the neckerchief lining to the back side of the bib, but that kind of work slows me down. I opted to pin it carefully and edge-stitch it, since the stitching wouldn't be visible from the front side.
Close up of edge-stitching
The faux 'pocket' was stitched down on the lower right-hand side of the bib. It's a cute little detail that makes the bib look like a shirt.
I found three blue buttons in my stash...red would have been cuter, but alas, there were none in the button box. The placement of the buttons was measured from the bottom up because the neckerchief covers a bit of neckline.
Zig-zag stitching the point of a star is tricky!

The star 'badge' took the most time. There was a scrap of fabric in my stash just the right color. I used fusible web (wonder-under) to hold it in place so it could be appliqued. I used a 30 weight rayon embroidery thread to match. Turning the corner at the point of the star was a bit tricky...I think I should have practiced that a few times before I did it on the bib, but unless you're looking really close, I don't think you'd notice!
The pattern called for snaps or velcro at the neckline, and behold, I found red velcro in my stash!
OMG!! Red velcro!
In under two hours, here is the cutest darn bib for a boy in the whole Wild West! In the whole country, for that matter! Yippee!
Mr. Businessman will be next!!
A little footnote about Quilts and Quilts. It's a locally owned and operated business in Branson, Mo., with three generations of the same family working in the shop. On February 29, 2012, the shop was hit by a tornado and destroyed. The owner found a new location immediately, and the shop re-opened just FIVE weeks later. They carry 14,000 bolts of fabric and over 2,000 patterns. The staff is so knowledgeable, it is a pleasure to shop there. Check out their on-line store!